Get your website on the Google paid searches within 48 hours.
First Click PPC (pay per click) management service allows your business an optimised pay per click campaign. 
Our PPC services go hand in hand with our organic SEO services to provide a well-rounded marketing strategy for your business. 
Organic optimisation and Google Adwords are both essential to your business, however once your organic ranking places you on the 1st page, you no longer need the Google Adwords Campaign, the PPC Campaign is instant and SEO takes 6 months. 
The paid search is visible on the top 3 positions and right hand side of a Google page.  A PPC campaign lets you determine exactly who comes to your website.  You only pay for clicks to your website.  If the person only sees your link, but does not click through to your website, this is called an impression.  You do not pay for impressions.
Our belief is that a good SEO campaign is the foundation of online success and Google Adwords should be an addition to the SEO campaign. 
Our Strategy
Before we start your PPC campaign we do a full analysis of your current online advertising campaign.
We look at the keywords necessary to make your new campaign a success. (both positive and negative keywords)
We do competitive benchmarking looking at your target market.
We constantly monitor our client's campaigns, making sure that you are benefiting from the highest click through rates at the lowest cost per click.
We keep our clients up to speed with on-going statistical updates.
Clients are given monthly reports showing the progress of your Google Adwords Campaign.
How can we help?
Google Adwords allows you to buy an advert position.  The more you are willing to pay the higher your ad will be displayed.
When you become our client one of our Adwords Specialists will contact you to set up and manage your online campaign, targeted at your keywords and phrases.
We will constantly monitor your campaign making sure you are benefiting from the highest possible click through rates at the lowest possible cost per click.
We keep clients up to speed with their progress giving on-going statistical updates and monthly reports.
Is it an effective way of advertising online ? 

YES IT WORKS VERY WELL AND MANY OTHER BUSINESSES ARE USING PAY PER CLICK AS AN EFFECTIVE FORM OF ONLINE ADVERTISING


You decide on your monthly budget for your Google Adwords Campaign.
Definitely the easiest way to track and optimise your advert spend.
Results are instant.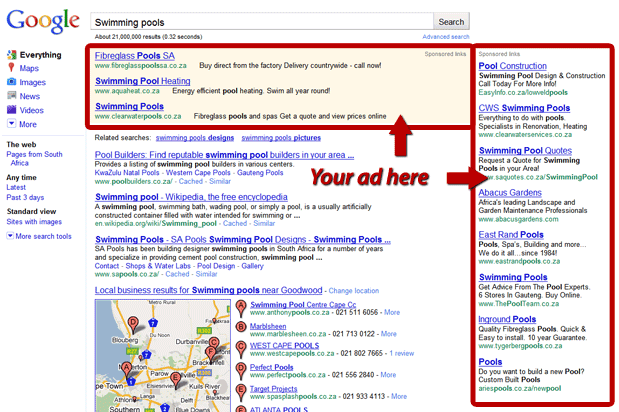 Get started on your Adwords campaign while we work on your SEO!